Parallels of Real life to the Wizard of Oz - @RealXanon
Updated: Apr 10, 2022
VIDEO:
PRESENT DAY WIZARD OF OZ
From: @Xanon on Telegram / @RealXanon on AnonUp
The Wizard of Oz = the Crown Temple.
This is not a mere child's story written by L. Frank Baum.
What symbol does "Oz" stand for? Ounces…Gold, what is the yellow brick road? Bricks or ingot bars of gold.
The character known as the Straw Man represents that fictitious ALL CAPS legal fiction – a PERSON – the Federal U.S. Government created with the same spelling as your Christian birth name.
Remember what the Straw Man wanted from the Wizard of Oz? A brain! No legal fiction has a brain because they have no breath of life! What did he get in place of a brain? A Certificate. A Birth Certificate for a new legal creation. He was proud of his new legal status, plus all the other legalisms he was granted. Now he becomes the true epitome of the brainless sack of straw who was given a Certificate in place of a brain of common sense.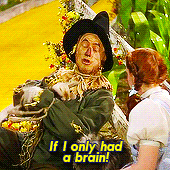 What about the Tin Man?
Does Taxpayer Identification Number (TIN) mean anything to you? The poor TIN Man just stood there mindlessly doing his work until his body literally froze up and stopped functioning. He worked himself to death because he had no heart nor soul. He's the heartless and emotionless creature robotically carrying out his daily task as if he was already dead. He's the ox pulling the plow and the mule toiling under the yoke. His masters keep him cold on the outside and heartless on the inside in order to control any emotions or heart he may get a hold of.